Meet our partner
October 26, 2021
This year's local ecosystem partner for The Business Booster is Berlin Partner. We interviewed  CEO, Dr. Stefan Franzke, explaining in short some of the reasons for choosing Berlin for this year's event. An interesting read!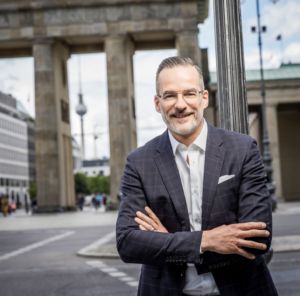 This year's umbrella topic at TBB is "the 4th industrial revolution: sustainability, decarbonisation and digitisation" – how are these metatrends defining what you as Berlin Partner do on a daily basis?
These challenges shape what we do from day to day because advancing sustainability, decarbonization and digital transformation are all part of our daily business. Berlin is known for the fact that companies – start-ups and grown-ups alike – are working hard on the issues shaping our future. Siemens, one of Berlin's oldest start-ups, is building a campus for the future while Mercedes Benz is transforming its Berlin-Marienfelde plant into a role model for the development, testing and implementation of pioneering software applications to be used in its global production network. With its Digitale Schiene initiative, Deutsche Bahn is moving its headquarters to the EUREF campus, where it is applying digital technologies to modernize and digitalize rail infrastructures. And these are just a few of the projects that we have the privilege of supporting as Berlin Partner. Berlin has become Europe's leading future hub and innovation location thanks in no small part to the tightly woven networks found here between science and business. Research and entrepreneurship have always played an active role in shaping structural change in Berlin. Under normal circumstances, close cooperation between science and business yields the highest growth potential. And, as the last year in particular has demonstrated, this cooperation makes us all strikingly resilient to crises.
What are the top 3 characteristics that make Berlin a special place for (young) companies in the sustainable energy field?
First, and most importantly, there's Berlin's ecosystem, which features more than 6,400 businesses employing almost 58,000 people in the Cluster Energy Technology. Since 2011, both Berlin and Brandenburg have played a significant role in fostering the innovation potential across both states through the Cluster Energy Technology. The core topics of renewable energies, energy efficiency, energy grids and storage systems as well as turbo machines and power station technology are of particular importance in this regard. Berlin has everything from excellent research opportunities and cooperation partners to innovative start-ups, as well as corporate innovation labs and high-tech hubs like EUREF Campus and Adlershof. Second, there's Berlin Talents: With its unique history, its diversity and its desire for innovation, Berlin is a city whose reputation attracts 50,000 people every year. People from 170 nations live and work in this city. And last, but not least, there's the tailored-to-your needs and comprehensive support provided by Berlin Partner.
Big companies like Siemens and Tesla are massively investing in the region. What impacts can be felt already and what do you expect for the midterm?
Siemens' and Tesla's commitment to the capital region emphasizes Berlin's ability to play a leading role on the international stage. We're already seeing improvements to the region's national and international visibility, which has made Berlin is a bigger pin on the talent map. And that's important, because the race for brainpower has already begun. In the future we expect a re-industrialization of the region through highly innovative and digitalized actors. Projects show that the capital region is an attractive place to invest in. We hope to see an even stronger pull effect in which new market participants fill all stages of the value chain in a sector such as the battery sector.
How does Berlin Partner support especially young companies in the energy sector to set foot in the city?
Berlin Partner offers a broad range of services for companies both on-site and for those relocating. With energetic support from a network of more than 230 corporate partners from industry and science as well as the federal state of Berlin, Partner for Berlin applies specific communication strategies for the city of Berlin. By highlighting the various ways in which the city plays an active role in shaping future challenges, Berlin Partner fosters interest in Berlin. Berlin Partner is also the owner and operator of Start Alliance, which includes the coordination of all activities of the Start Alliance over the globe. Whether you're interested in establishing your business in Berlin, internationalizing your activities or are intending to grow here, Berlin Partner for Business and Technology provides comprehensive, customized consulting and assistance for companies throughout their decision-making and implementation phases. Berlin's ecosystem for impact start-ups has improved a lot in recent years. In addition to our standard relocation services, which include help with finding an ideal location, support in finding strong talent and suitable public funding programs, our strongest asset is our network. Our energy technology cluster facilitates local innovation by fostering networks between industry, academia and government institutions.
Imagine we fast forward to the year 2030. How do you imagine Berlin will have changed as an energy innovation hub?
Berlin will have significantly reduced its own carbon footprint. It will have lowered emissions in the mobility and building sectors. The vast majority of newly registered cars will be EVs, and through the implementation of the Masterplan Solar City, many roofs in Berlin will have a PV power plant. Berlin's economic growth will continue, and our sites of the future, such as Siemensstadt², Urban Tech Republic and the Cleantech Business Park, will be populated by young, fast-growing start-ups and large corporations alike. This growth will also be cultivated by our strong R&D landscape.
More information about Berlin Partner here