"The climate emergency has mobilised a lot of efforts to crack the code"
September 1, 2022
Creating the future of sustainable energy together with our sponsors
open innovation
start-ups
TBB2022
An interview with Valérie Dijkstra, director, performance and development, EDF Corporate Innovation Division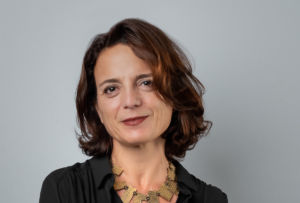 Reaching net zero by 2050 requires scalable technologies that need to be rapidly mobilised as early as today. At EDF, we are fully committed to building a net-zero energy future and we address this on a wide spectrum, from low-emission generation to customers' needs. There is a real sense of urgency and we understand that the technologies required to reach half of the CO2 reductions needed are either not yet available in the market, still at the prototype stage, or sometimes yet to be invented. This is the magnitude of the challenge we have ahead of us.
Innovation is essential. And it's in our raison d'etre. Part of this innovation is connecting the dots between ideas, needs, markets and customers. Our longtime partnership with EIT InnoEnergy is paramount for us to meet those needs and connect the dots.
Innovation must feed our four crucial pillars: carbon neutrality, wellbeing and solidarity, preservation of the planet's resources and responsible development.
For these, we have in place an innovation strategic framework that we update on a yearly basis, and in which we identify some key areas where our open innovation efforts have to be focused.
One important element of our partnership is the exchanging of best practices. EIT InnoEnergy has a long history of working with startups and this is something we have been able to learn from. Taking into account their experience brings a lot of value to the partnership.
We have tried to reverse the traditional way of working with startups. We, as a corporate, must challenge our choices and select the most efficient route to market. In return the startups can benefit from our facilities and resources. For example, we have a renowned R&D lab where startups can derisk their technology and test their potential to scale up. It's a win-win situation.
However, the right approach is crucial. Once we have a roadmap, we go back to the ecosystem and try to identify the right startup to work with. But the next step is even more important – we make sure that this relationship brings added value. This could be integrating the solution into our supply chain, or the solution becoming a business client. Our goal is to make sure that we get all the support the business needs to implement a concrete action that is going to create value.
One issue is that startups are very good at pitching their work because they spend a lot of time trying to get financing. For us, it can be hard to say no to something with a compelling story. So we have to screen them and proceed with conviction. A corporate such as EDF has a cultural frame that is different from that of a startup so we need to customize and have ready-made templates in order for our business to quickly enter into a partnership with a startup. We do learn a lot from the way we work with startups and we try to foster a culture of sharing and learning from failure.
For this we use a knowledge management platform, where we try to share a very efficient progression route. Everyone can see and make requests via the platform instead of trying to reinvent the wheel every time. The group is internationally based so it's difficult to have everyone together all at once and this platform means we can share easily.
We also run a yearly award, the EDF Pulse Start-up Awards, where we identify startups with innovative ideas and products that tackle key challenges faced by the industry. Winners of the award join an EDF group start-up network and receive customised support.
Measuring success
It's paramount for us to be able to demonstrate results. We do have a transformation rate that we can monitor. So for example, out of 100 startups being met, we thrive to have a relevant action in place with ten of them. This can be a challenge with a company like ours but having a way to demonstrate the value we create is essential. We question everything on a regular basis. Innovation is all about making sure that you pivot at the right time but the more you try, the more you might have some success.
Innovation is really triggered by emergency and this can create something very powerful. The climate emergency has mobilised a lot of efforts to crack the code. Our challenge is to ensure we take an efficient approach to making these efforts come to fruition.
For more information about innovation at EDF check their website