Ten years of sustainable energy innovation at The Business Booster!
January 24, 2023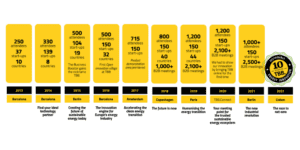 On 28-29 September 2022, EIT InnoEnergy's trusted sustainable energy innovation ecosystem met in Lisbon for two days of innovations, pitching, insightful sessions, networking, major announcements and much more. Every year we are extremely proud to bring 150 sustainable energy innovations under one roof together with industry, investors, and policy makers and this year with over 3,100 B2B meetings did not disappoint!
Diego Pavia, CEO of EIT InnoEnergy and Elena Bou co-founder and Innovation Director, kicked off the 10th edition of The Business Booster, which has since grown to become the largest innovation event in sustainable energy!
Over the two days we brought more than 40 inspiring speakers on stage and were honoured to welcome two European Commission keynote addresses: Vice President Maroš Šefčovič via a video welcome address and Director General of Internal Market, Industry, Entrepreneurship and SMEs, Kerstin Jorna on stage. Our keynote speaker, former NASA astronaut Ron Garan, set the stage for the two days with his inspiring views from space and reminding us that climate change has no boundaries.
The event looked at how we can win the race to #netzero through balancing the exploitation of existing technologies and exploration of new ones. During two roundtable discussions, participants heard from the innovators, entrepreneurs and researchers working on existing and future technologies as well as the investors, corporates and policy makers are and will be instrumental in making them happen and scaling them.
During a press conference at the event, Santander Asset Management and EIT InnoEnergy announced that they are joining forces to launch a new climate tech investment vehicle to accelerate the energy transition. Read the full press release.
Finally, the 150 EIT InnoEnergy portfolio start-ups in attendance pitched their solutions to investors, industry and policymakers and those voted best by the audience moved onto the pitching finals which closed out the event. Congratulations to the winners: 1st place – GDI, 2nd place – ROSI Solar and 3rd place – ecop.
The net-zero agenda has shown us that the work of our trusted ecosystem is more important now than ever. And The Business Booster is a unique opportunity to experience this innovation ecosystem at work in person. Together, we will scale those big-impact technologies and discover the way forward for those of the future. Innovation will not only be an enabler of climate goals, but it will also be a driver of growth, creating jobs, economic prosperity and in the process ensure the transition to a secure, affordable and sustainable energy future.
After all, we are not just in the race to net-zero. We plan to win it.
Thanks to our amazing sponsors and partners for making it possible, and for our sustainable energy ecosystem for ten years of The Business Booster!
View The Business Booster 2022 photos here and be sure to pre-register for The Business Booster 2023 in Amsterdam!