Pro-Drone: autonomous drones to inspect wind turbines blades
November 2, 2015
innovation
Portugal
renewables
start-ups
TBB.2015
Why inspect wind turbines with drones?
Remember first how inspections are currently carried out: rope-access technicians visually assess the condition of wind blades; this process is time-consuming, dangerous, costly and therefore not efficient. Ground camera image-based inspections are an alternative and eliminate some of these drawbacks, but UAVs have the potential to revolutionize this process by combining the detail and proximity of a rope inspection with the speed, safety and logistical ease of ground camera inspections. Furthermore they enable the possibility of automating some aerial image processing (e.g. automatic fault recognition) and to retain inspection records for each blade.
But this is not a new idea…
True, the idea isn't new, but to date it remains a marginal portion of blade inspections because it hasn't been done right yet. Several UAV pilots have indeed tried to shoot images of wind blades in the past, but wind farm operators finally got tired of the disastrous results and stopped believing in the concept. However our approach is entirely different and genuinely industrial: the purpose is to collect exhaustive and reliable data in full safety for people and equipment. Our solution is therefore both technological and operational.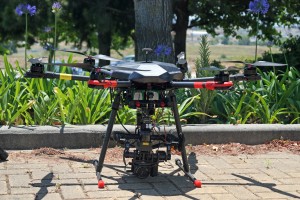 Can you give us some details?
The advantage of a UAV (unmanned aerial vehicle) is that is can fly very close to the wind blade and deliver an excellent image resolution (around one tenth of a millimetre). However, no GPS, or UAV pilot, can keep the drone perfectly and consistently aligned with a blade that is a only a few meters wide. All this just a few metres away from the blade, over its entire length, in a robust and reliable way to collect high quality data. We have therefore developed our proprietary automated piloting system capable of detecting and analysing the UAV's environment based on LIDARs (laser radars). Our drone, in real time, recognizes the wind blade, autonomously positions itself just in front of it, and automatically takes hundreds of pictures, all perfectly ordered and precisely spaced. Ultimately, we can imagine a fully autonomous drone in charge of continuous inspections on site.
How do you analyse these images?
This is the second tier of our innovation. To the human eye, all these pictures look alike: white, white and more white! We have designed an algorithm that reconstructs the wind blade in a mosiac, currently in 2D format (a kind of giant photograph) but soon to be in 3D. Later, everything that can be automated will be so: e.g. search for defects, classification and prioritisation of faults, comparison with previous images, and display of key points to human analysts. Our image processing platform ultimately generates a digital report for each inspection.
Your business model is therefore based on service delivery, isn't it?
Yes, and at this time we are doing everything in house. But on the medium term, we intend to get backing from service providing partners who would licence our technology as a whole enabling them to inspect the wind turbines of their own clients. Access to our digital platform (analysis, reports, track-records, etc.) would be invoiced based on the number of uploaded inspections. And on the longer run, it is likely that the analysis of all data collected on the wind blades may generate higher value: for instance to help select a type of blade according to the site layout, to improve some blade materials, or to fine-tune the settings. We will therefore probably also add a "big data" dimension to the business model.
Can other applications be contemplated?
Yes of course. Every structure that is vertical and must be inspected regularly falls within our scope. However, we are very attached to our "problem solving" approach: we listen closely to our clients and find the best solutions. Any diversification will therefore take place in conjunction with the market needs. Actually, it is largely thanks to the advice of KIC InnoEnergy that we work in sync with our clients today: they taught us well about thinking about "customer value" ahead of "technological beauty"!
What about the financial aspect?
Financial support from KIC InnoEnergy is of course a decisive factor. But money isn't everything! I think I can say that our partners at the KIC Portuguese office are 50% investors and 50% co-founders, always standing by our side and at our disposal. This support also materialises in the positive windfall from The Business Booster thanks to which we have met half a dozen influential decision-makers in our sector, won a number of pilot projects, and most of all contacted five potential investors! We are thus expecting to raise around 800,000 euros in early 2016.
Eye of an expert

Pedro Leão, General Manager of PLENITUDE

"Pro-Drone is a one-of-a-kind project since it mixes several top entrepreneur ingredients in one concept, namely a top promoter with deep business know-how and high levels of motivation, backed by a complementary shareholder structure building over a business area that is proving to be gradually consistent with multi-million euros market fundamentals. Energy asset maintenance provided by a drone unit together with high tech analytical and diagnostic software can represent savings and significant risk reduction to many big electric utilities that hold multi-million assets like power dams, electric transmission grids, thermal power units, wind farms, solar photovoltaic farms and many others. This is why I sincerely believe that Pro-Drone can deliver a very strong value proposal over this high-value area, while benefitting from its early-mover's advantage in the market."