150 of the best innovations presented by the most active sustainable energy investor
June 8, 2023
Every year, EIT InnoEnergy puts on its two-day flagship networking event, The Business Booster. Now in its 11th year, it is recognised as the world's leading innovation event in sustainable energy for bringing together over 150 technologies under one roof. Thanks to our history and track-record, we are especially qualified to bring these innovations together with the most relevant sustainable energy ecosystem, bolstered by recent accolades in prestigious rankings.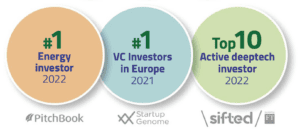 Again in 2023 we have received a series of listings, placing EIT InnoEnergy as a top investor in sustainable energy technologies. For our attendees, this means the 150 innovations that you will see at The Business Booster are already pre-qualified and enhanced.
Sifted, backed by the Financial Times, ranked EIT InnoEnergy as a top 10 active deeptech investor. In 2022, European investors backed deeptech start-ups with $17bn with EIT InnoEnergy leading in the cleantech segment. Since 2010, EIT InnoEnergy has supported over 500 innovations including major disruptive technologies from floating wind to those that deliver AI-driven energy saving, and balancing off the grid.
For the second year in a row, PitchBook recognised EIT InnoEnergy as the most active sustainable energy investor in their Annual Global League Tables. EIT InnoEnergy backs innovations across a range of areas including energy storage, transport and mobility, renewables and sustainable buildings and cities – leveraging its trusted ecosystem of 1200+ partners and 29 shareholders.
Commenting on the continued recognition, Elena Bou, Co-Founder & Innovation Director at EIT InnoEnergy said: "Being recognised year after year as a top investor in the energy sector is a testament to the strength of our investment model – supporting start-ups through value-added services and access to our unique innovation ecosystem to de-risk the business case and shorten time to market. We are extremely proud of these rankings as we continue to drive the net-zero agenda and deliver positive impact together with our portfolio companies."
This October we will bring our entire sustainable energy ecosystem together for two days of networking while presenting the best de-risked investment opportunities in the field. As one of the top recognised investors in clean energy technology, we have the network and know-how to bring the right players together.
Come see our expertise in action at The Business Booster this 18-19 October in Amsterdam. Register now to secure your place.